Trafford records highest infection rate in England
Trafford has recorded the highest rate of coronavirus cases in England after seeing a sharp rise in infections.
Nearly 2,000 cases were reported in the week to 7 October, the highest level of infections seen in the borough throughout the whole pandemic.
Helen Gollins, acting director of public health for Trafford, said the latest guidance was a "call to action".
The latest public health data has revealed the Greater Manchester borough recorded 1,978 new cases in the seven days to 7 October – the equivalent of 832.6 per 100,000 people.
This is up sharply from 516.9 in the seven days to 30 September.
Ms Gollins told BBC Radio Manchester the area had seen a "significant increase over the last week", particularly within the 10-to-14 age group.
But she said the council had been doing a "huge amount of work" to bring the infection rate down including introducing new measures.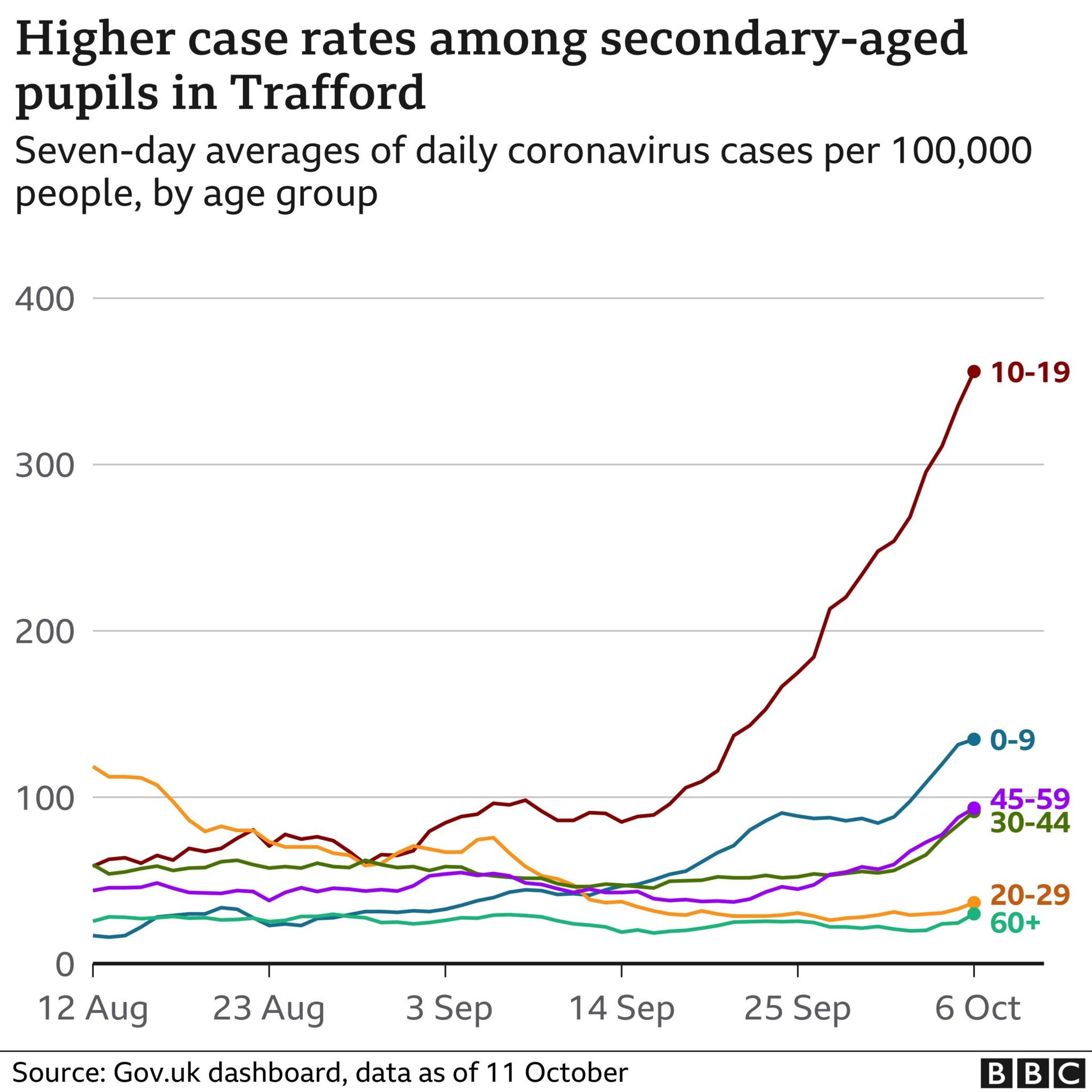 New measures including asking pupils and staff to wears masks as well, as asking those who live with someone who has Covid to take daily lateral flow tests before attending school, were brought in on Monday.
"Our vaccination levels are high but we still need to make sure those people who haven't yet had both vaccinations get their vaccines," Ms Gollins added.
"It's about re-enforcing general good behaviours not just for our children."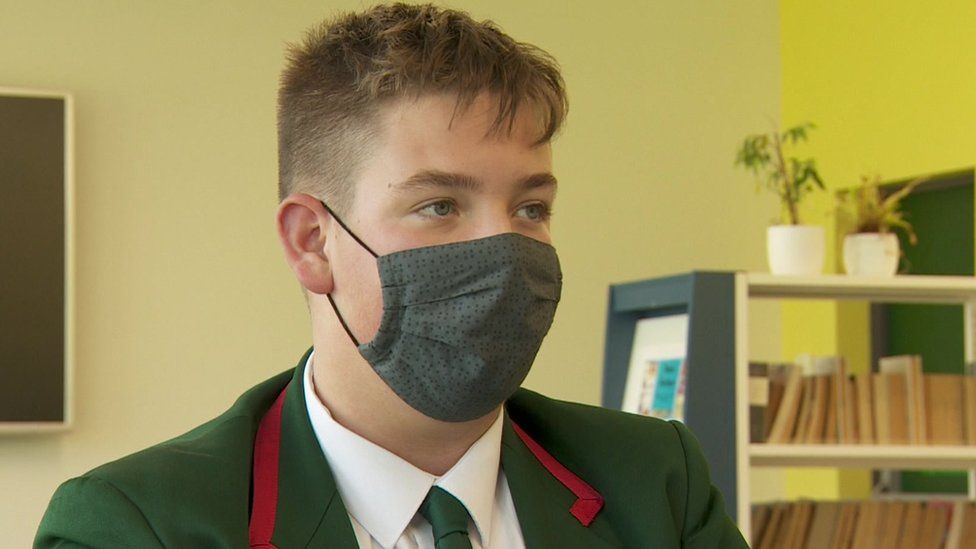 Altrincham Grammar School for Boys is among the schools to bring back face masks.
Isaac, a pupil at the school, said it felt like a "good idea to protect people around me who may have people at home who are more vulnerable than I am or more vulnerable than my family members".
Fellow pupil Bhuvan said the decision had made him feel safer so "I can protect the people around me as well as myself".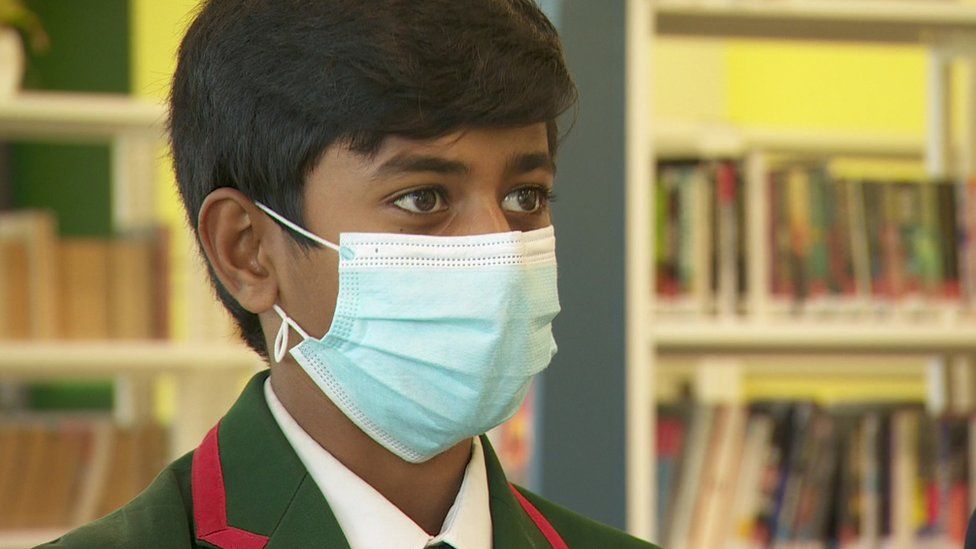 Analysis
By Rob England, BBC England Data Unit
The current rise in coronavirus infections seen across England has been described by some scientists as a bit of a mess.
Some parts of the country are seeing significant rises, like Trafford, while whole regions are seeing infections fall away.
In the areas where cases are spiking, it is mostly school-aged younger people and older, perhaps parent aged, groups getting infected.
Some might suggest low vaccine coverage as a cause for the rise, particularly among school children.
But this doesn't look like the case in Trafford, where uptake among all age groups is similar, if not higher, than the overall national level.
Official figures also show some of the most recent new hotspots have seen infections rise to their highest levels of the pandemic, which suggests the number of people infected in previous waves may be playing a part in recent surges.
Ultimately there is always a complex combination of factors behind a rise in infections, and the data in isolation can't give us the full context.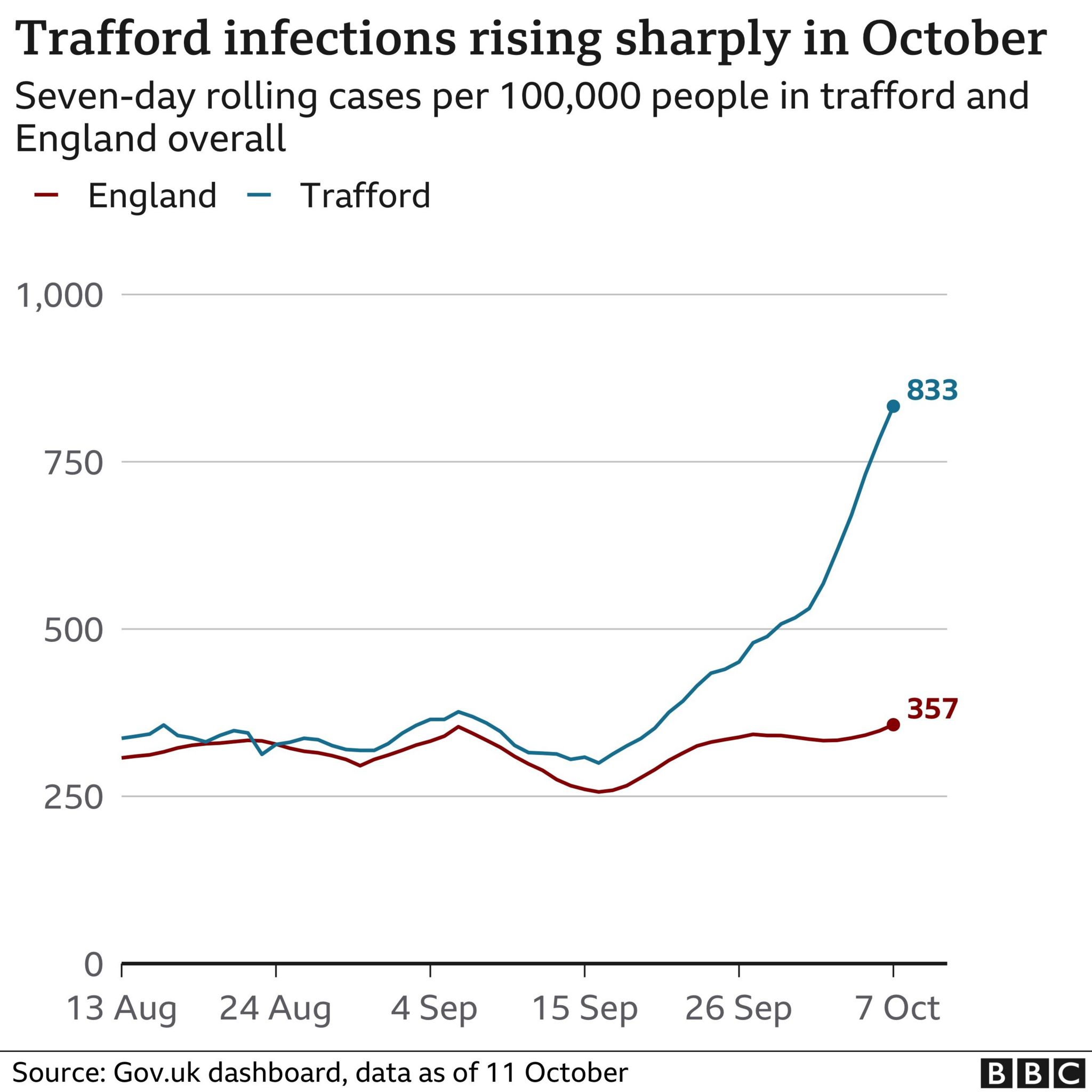 It comes as England's rate of new cases of Covid-19 has climbed to its highest level since the summer with two-thirds of local authority areas currently recording a rise in rates.