No need to cancel Christmas party plans – Javid
Free Download WP Rocket Premium
There is no need to call off Christmas parties despite the emergence of the Omicron variant, the health secretary has said, as he urged people to get a booster jab to fight Covid.
Sajid Javid said people should consider measures such as taking Covid tests or wearing face masks when socialising.
But NHS Providers said some NHS trusts had asked staff "not to mix in big groups" in the run-up to Christmas.
It comes amid an expansion of the booster vaccination rollout.
Saffron Cordery, deputy chief executive of NHS Providers, told Sky News some trusts were setting an example by making that request to staff because of the "potential threat to their health and what they will be available to do".
Prime Minister Boris Johnson has urged people to book in for their booster as soon as it is offered to them and suggested there was no reason that companies should be considering cancelling their annual staff Christmas parties.
He said the government was taking a "balanced and proportionate" approach in response to the new variant.
UK Health Security Agency head Dr Jenny Harries had said people should not socialise "when we don't particularly need to".
Mr Javid said the right thing to do was to follow the existing guidance, including the changes made in England in the last few days.
Covid restrictions have been strengthened in response to the Omicron variant, with face masks once again being required on public transport and in shops in England. Recent contacts of people identified as having contracted the Omicron variant of coronavirus are now required to self-isolate for 10 days even if they are fully vaccinated.
Scotland's national clinical director Jason Leitch told Times Radio people should do a "version of Covid certification" without the law telling them to, by ensuring they are vaccinated but also taking a lateral flow test each time before they attend a social event.
Kate Nicholls, chief executive of trade body UK Hospitality, told BBC Breakfast the industry hoped the prime minister's words would give people the confidence to continue to make Christmas plans and would "stem the flow of cancellations which we are starting to see".
NHS England is to issue detailed guidance to hospitals, pharmacists and GPs about the major expansion of the Covid booster vaccine programme.
The government aims to offer all adults in England a top-up shot by 31 January.
Hospital hubs will be asked to offer jabs to the public as well as NHS staff and more pharmacies will be used in a bid to meet the January target.
Mr Javid told BBC Breakfast the vaccination programme needed to deliver one million more jabs a week to reach that target and said more volunteers were needed to help with tasks at vaccination centres.
He said there was "nothing more important" than the two-month booster push, but acknowledged it was a "tough ask".
The health secretary said the NHS was working with GP representatives to suspend some of the workload of GPs so they can "concentrate on vaccine delivery".
The prime minister said booster doses would be given at 1,500 community pharmacy sites and extra hospital hubs in England – and that 400 military personnel would also be on hand to help with the rollout.
People will become eligible to book a third dose three months after their second.
About 50 mass vaccination centres have closed in England as the original vaccination programme passed its peak and many GPs have stopped delivering Covid vaccines to focus on other patients and flu jabs.
But health leaders have warned that expanding the booster rollout poses a big challenge. Matthew Taylor, chief executive of the NHS Confederation, which represents the healthcare system in England, Wales and Northern Ireland, said accelerating the booster rollout would have "consequences" for a health service that was already stretched.
There's been much talk of the ability of Omicron to get around some of the defences built up by vaccination.
So why bother with boosters? Why not tweak the vaccines like manufacturers say they can?
When it comes to immunity vaccines do two things – protect us from infection and from serious illness.
Some of the variants that have emerged, including Delta which is dominant in the UK, have reduced the ability of the vaccines to protect against infection. On paper it looks like Omicron may do the same, although it's still too early to tell.
But the vaccines have held up very well in protecting against serious illness for all variants so far.
The booster dose has been shown to significantly increase the immune response, so will be clearly beneficial even if the worst fears are realised about Omicron.
What's more, new vaccines would take 100 days to produce and then you've got to get them into arms.
The current vaccines are available now.
Some scientists also caution against changing the vaccines because in the longer term it could put us in a worse position.
Their argument is the vaccines were based on the original Wuhan strain of the virus, which is most likely to share common features with all variants.
If we try to match vaccines to one particular variant we risk another popping up on the other side of the "family tree" that vaccines will struggle to cope with even more.


The doctors' union, the BMA, warned GPs were already working extra hours and would struggle to maintain their existing workload if they were required to help roll out boosters.
There are fears that Omicron may spread more quickly and could make vaccines less effective, while the World Health Organization says there is a higher risk of reinfection than with other variants.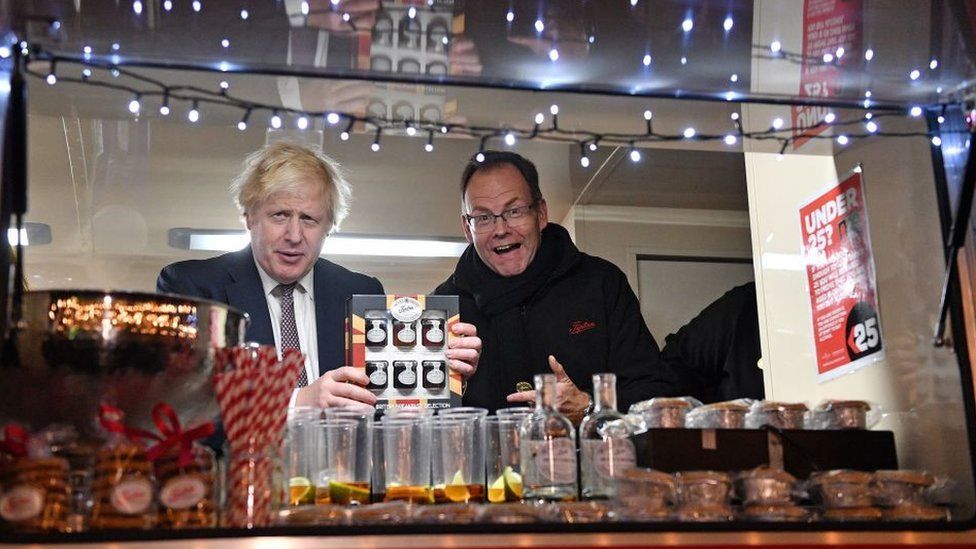 Around 18 million people in the UK have already had a booster jab, with a total of 318,671 administered on Monday.