Covid-19 deaths in Scotland drive fall in life expectancy
Life expectancy in Scotland fell last year with the biggest annual decrease seen in 40 years, figures show.
Average life expectancy for men dropped by 17.6 weeks and by 6.1 weeks for women, according to the National Records of Scotland (NRS).
The NRS's head of vital events statistics, Julie Ramsay, said the decrease had been driven by Covid-19 deaths.
Scotland has the lowest life expectancy at birth of all UK countries.
However, average life expectancy in all the UK nations has fallen over the past year.
Women born in Scotland are now expected to live until they are 81, with men reaching the age of 76.8 on average.

Ms Ramsay said: "It is clear that the high number of excess deaths in 2020 has led to the fall in life expectancy.
"Our analysis shows that Covid-19 deaths accounted for the vast majority of the fall in life expectancy for both males and females, with drug-related deaths also having a negative impact on life expectancy for males."
Ms Ramsay said measuring life expectancy was an important indication of the health of the population.
"Covid-19 has clearly driven a significant increase in deaths and this life expectancy measure will provide important evidence as to whether the impact of the pandemic is a one-off shock or whether it will have a sustained impact on mortality," she added.
How does Scotland compare with the other UK nations?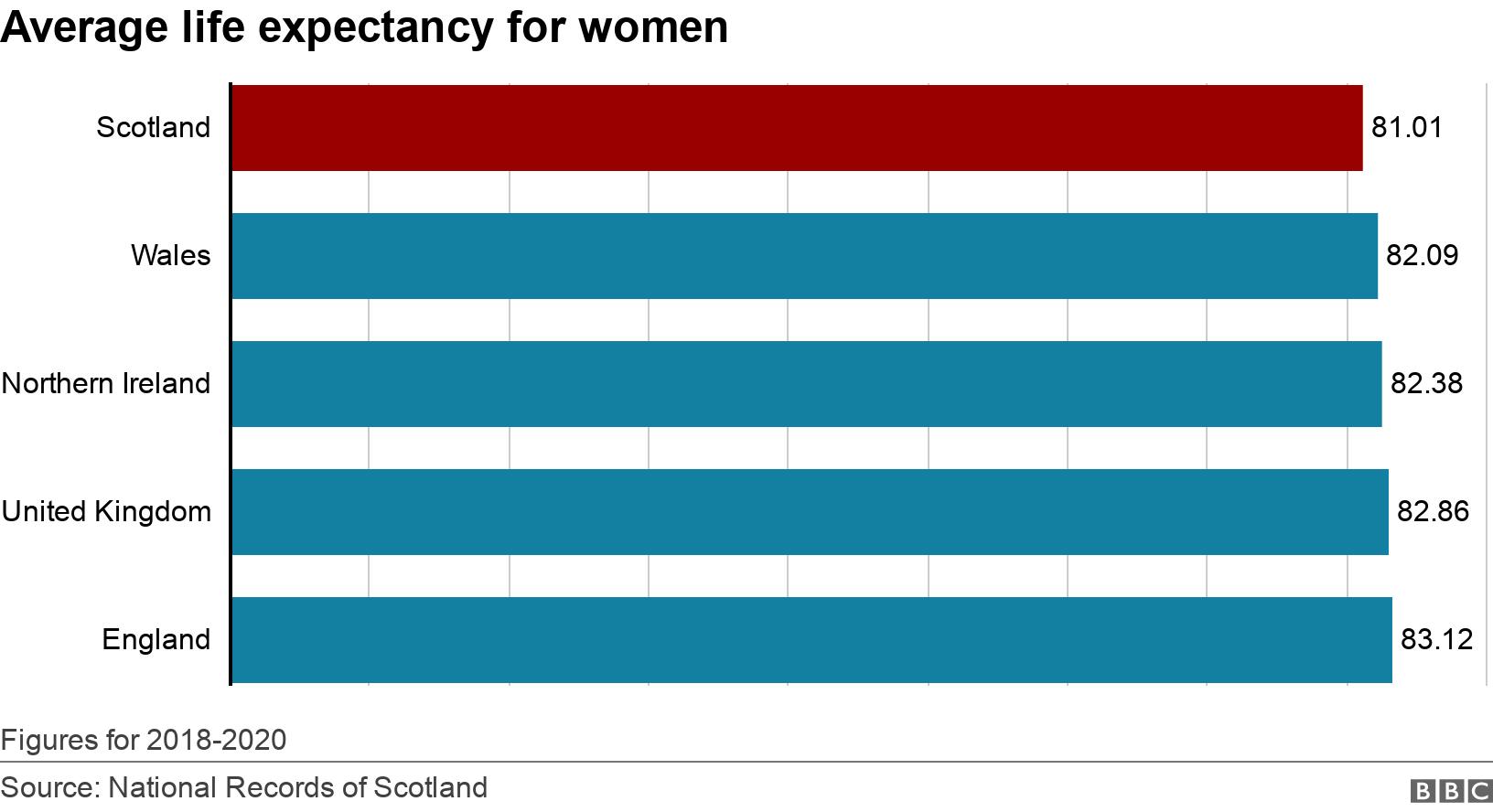 The NRS also found that deprivation continued to have an impact on life expectancy, with men living in the least deprived areas having 13.5 years more life expectancy than those living in the most deprived areas.
The difference was 10.2 years for women.
Despite the drop in life expectancy at birth, the NRS said the number of centenarians in Scotland had increased by 13% over the last year.
There were 960 people aged 100 or over living in Scotland in 2020 – 770 women and 190 men.
The NRS said the rise was linked to the increase in the number of births that followed World War One.