Britney Spears grateful for 'little things' in life after conservatorship
Free Download WP Rocket Premium
Britney Spears has spoken about the joys of the "little things" she has been able to do since being freed from her 13-year conservatorship last week.
On Friday, a judge ended the legal guardianship that had controlled many aspects of her life since 2008.
In a heartfelt Instagram video, the pop star said she was grateful to have her car keys back and a bank card again.
She also hinted that she will do an interview with Oprah Winfrey and thanked her fans who "saved my life".
She said: "I've been in the conservatorship for 13 years. It's a really long time to be in a situation you don't want to be in.
"I'm just grateful honestly for each day, and being able to have the keys to my car and being able to be independent and feel like a woman and owning an ATM card, seeing cash for the first time, being able to buy candles.
"It's the little things for us women, but it makes a huge difference."
The 39-year-old went on to say that she wasn't "here to be a victim", but rather an "advocate for people with real disabilities and real illnesses".
"I'm a very strong woman, so I can only imagine what the system has done to those people," she continued.
"Hopefully my story will make an impact and make some changes in the corrupt system."
The conservatorship was set up following concerns about the Baby One More Time and Toxic singer's mental health, and gave her father and others control over many aspects of her career and personal life.
She recorded the video in the same spot in her garden where she has taken many social media photos and videos in the past – but without previously speaking about her situation.
Referring to the fans who have campaigned on her behalf in recent years, she told her 36 million followers: "The Free Britney movement, you guys rock.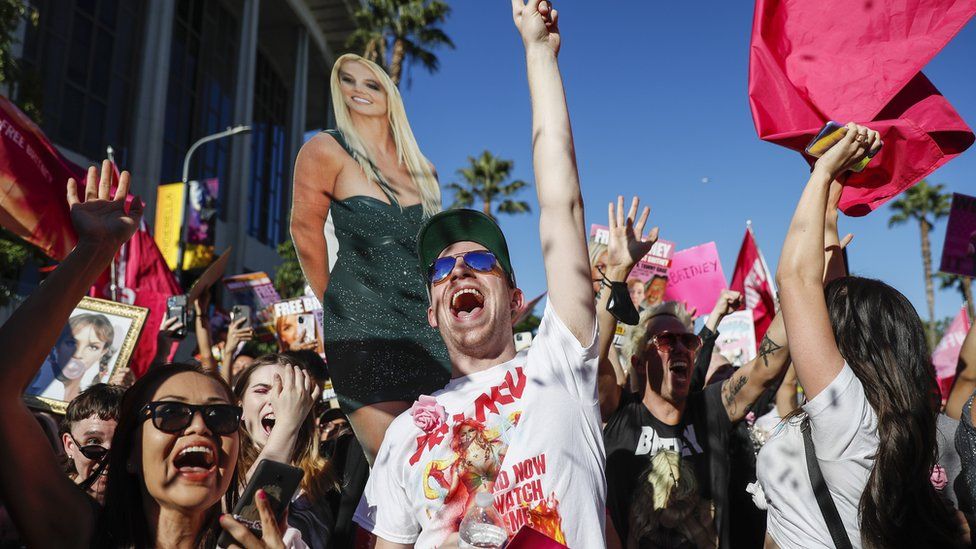 "Honestly, my voice was muted and threatened for so long and I wasn't able to speak up or say anything, and because of you guys and the awareness of kind of knowing what was going on and delivering that news to the public for so long – you gave an awareness to all of them.
"And because of you I honestly think you guys saved my life in a way, 100%."
Spears has previously said her father should be charged with "conservatorship abuse", and in the caption for the latest video she suggested that family members should go to jail.