Belarus migrants: EU accuses Lukashenko of gangster-style abuse
Free Download WP Rocket Premium
The European Commission has accused Belarus's authoritarian leader of luring migrants with the false promise of easy entry to the EU as part of an "inhuman, gangster-style approach".
At least 2,000 migrants are now at the Belarus border with Poland.
"Upon arrival they are being pushed to the border and forced to make an illegal entry into the European Union," said Commission spokesman Peter Stano.
Belarus's leader Alexander Lukashenko denies orchestrating the problem.
EU and Nato members Poland, Lithuania and Latvia have all seen a surge in the number of people trying to enter their countries illegally from Belarus in recent months. Many are young men but they include women and children, largely from the Middle East and Asia.
Poland has seen the most arrivals, especially around its major border crossing at Kuznica.
Migrants have described how Belarusian authorities seized their phones and pushed them towards the border fence. Overnight temperatures at the border have slumped below zero and several people have already died in recent weeks.
Poland has deployed extra troops after desperate crowds tried to cut a barbed-wire border fence on Monday. The border guard said more than 300 attempts had been made to cross illegally. The government warned of a possible "armed" escalation on its border with Belarus, fearing its neighbour might try to provoke an incident.
The head of Poland's national security department, Stanislaw Zaryn, said the migrants were under the control of Belarusian armed units. "Belarus wants to cause a major incident, preferably with shots fired and casualties," deputy foreign minister Piotr Wawrzyk said earlier.
The EU, Nato and the US all say Belarus is orchestrating the problem. Brussels accuses Belarus's disputed leader of provoking the influx in retaliation against EU sanctions, imposed after his widely discredited re-election and subsequent crackdown on mass protests.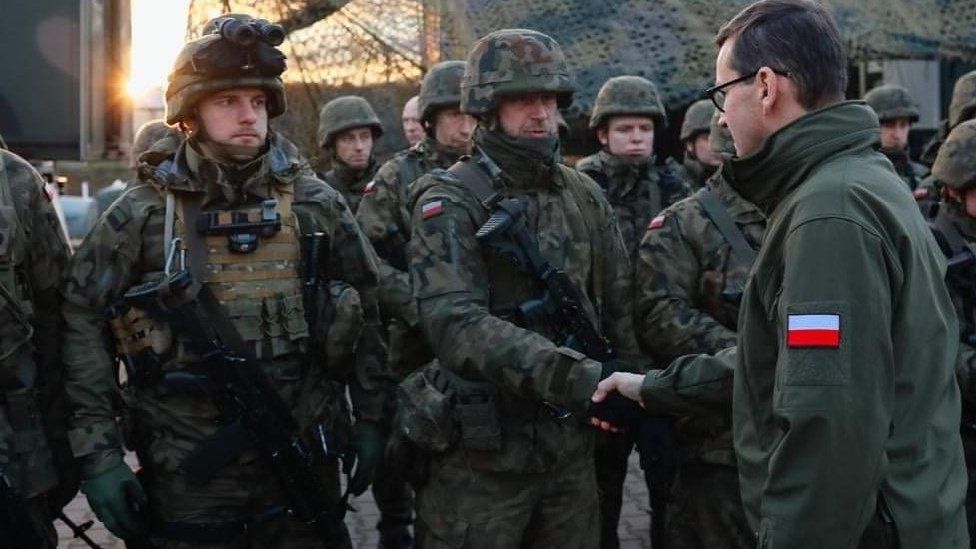 The Belarus defence ministry rejected the Polish statements as unfounded and unsubstantiated, and accused Warsaw of violating agreements by moving thousands of troops to the border.
Belarus insists the migrants are arriving legally there and that it is merely acting "as a hospitable country".
Russia has praised its ally's "responsible" handling of the border row and said it is watching the situation closely.
Activists say the migrants are being used as pawns in a political game between non-EU Belarus and its neighbours. Poland has also been accused of pushing migrants back across the border, contrary to international rules of asylum.
UN refugee agency spokesperson Shabia Mantoo said that it was very worried by the latest scenes: "Using refugees, asylum seekers and migrants to achieve political ends is unacceptable and must stop."
The European Commission is now looking to extend sanctions to include "third-country airlines" involved in flying migrants to Belarus. It said it was looking at flights to Minsk from a number of countries, including Syria, Iran and Qatar as well as Russia and several North African states.
Germany on Tuesday urged the EU to "take action" to help Poland secure its borders. Lithuania has also moved troops to its border with Belarus to prepare for a possible influx of migrants.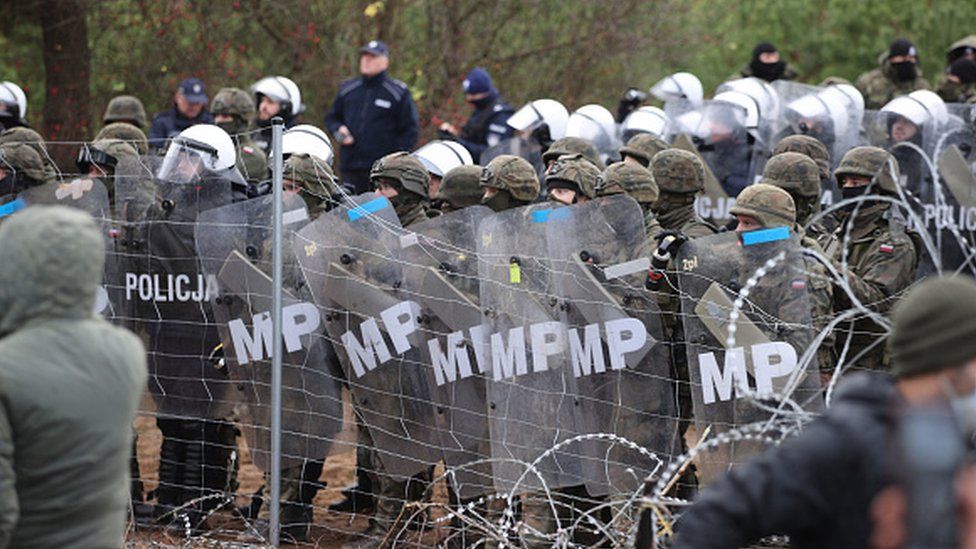 The BBC's Paul Adams spoke to Barwa Nusreddine Ahmed, the brother of one Iraqi migrant who was at the Polish border with his wife and three children. They arrived in Minsk, the capital of Belarus, last month.
With little to eat or drink, the people stuck at the border were suffering, Mr Ahmed said.
He said Monday's move to the border post was planned on social media by the migrants themselves, but suggested Belarus was pushing them.
"People know they're being used [by Mr Lukashenko], but they have no future," Mr Ahmed said.
Tensions intensified on Monday when videos posted on social media showed a large column of people, including women and children, walking towards the Polish border in Belarus.


Some videos showed large numbers of migrants being escorted by armed men dressed in khaki.
In other footage shared on social media, crowds of migrants can be seen attempting to breach a razor wire fence at the border, but being prevented from passing through by Polish border guards.
The Belarusian border guard agency earlier told state media that "refugees" were heading for the EU "where they want to apply for protection".